Dr. Sasha Rogers
Neurosurgeon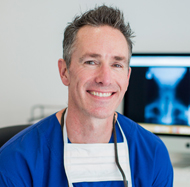 Dr. Sasha Rogers
Dr Sasha Rogers is an Australian trained neurosurgeon with subspecialty interests in spinal conditions and Skull base tumours. He is also comprehensively trained in and undertakes surgery in a wide spectrum of brain and peripheral nerve conditions.
After completing his undergraduate medical training and obtaining a first-class honours degree in neuroscience at UCL and the Queen's Square Institute of Neurology in London, he moved to Australia to undertake neurosurgical training in multiple centres of excellence in Queensland, New South Wales, and Western Australia. During this time, he gained a Master's degree from the University of Western Australia for his research in to paediatric brain tumours at the Telethon Kids Institute. He received his fellowship from the Royal Australasian College of Surgeons in 2016.
In 2017 he moved to Canada for 2 years to pursue postgraduate subspecialty training in endoscopic and skull base tumour surgery and was the recipient of the prodigious AOSpine North American fellowship in complex spine.
He provides a comprehensive and thorough consultation service focused on providing a prompt surgical solution to patients with neurosurgical conditions. Dr Rogers is able to see patients quickly and provides a no-gap surgical service with minimal wait times. His treatment philosophy centres around a minimalistic and safe tailored approach to improve the individual's quality of life.
Dr Rogers also has an appointment at Sir Charles Gairdner Public Hospital where he is active both in clinical work and teaching of surgical trainees and junior medical staff.